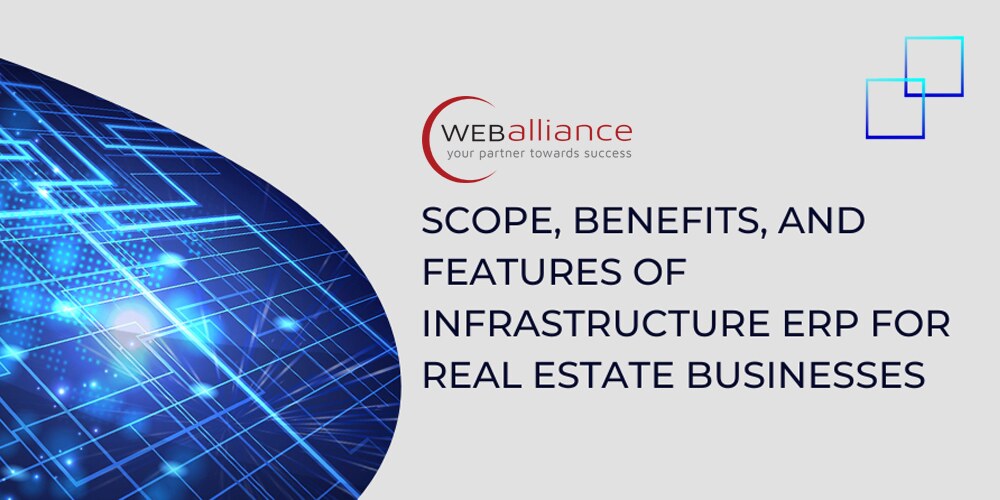 Evolving business management software backed by AI and ML is helping businesses in a great way to save time, effort, and costs without impacting customer service quality and customer experience. The success of infrastructure businesses like real estate brokers, contractors, builders, real estate developers, realtors, property management, etc highly depends upon the optimum use of financial resources, informed decisions, and real-time data-driven management of day-to-day activities in different domains. Infrastructure ERP improves the competencies of real estate businesses to help them compete and grow smartly.
What is Bespoke Infrastructure ERP Software?
Bespoke infrastructure ERP software (enterprise resource planning software) is designed especially for infrastructure-related businesses to address all the issues creating apparent and unapparent silos in growth. The tailored-to-need AI-driven ERP software allows real estate businesses to manage their in-house and outdoor operations with the help of real-time information available on a single dashboard.
Intended Users of Infrastructure ERP: Who Should Use Infrastructure ERP Solution?
Updating the legacy system has become a necessity for all the business types; and, infrastructure-related businesses are also the one. All the businesses dealing in real estate irrespective of profile, role, and scope need Infrastructure ERP solutions to improve profitability by cutting operational costs. Infrastructure ERP software integration acts as a growth booster for-
Real Estate Brokers/Agents

Construction Contractors

Real Estate Builders & Developers

Realtors

Real Estate Services Providers

Property Management Agencies
Scope of Improvement with Infrastructure ERP Software
Tender And Bid Management: In the infrastructure industry, optimized tender and bid management to compete without risking profitability decides the inflow of projects and the growth of the business. Custom infrastructure ERP system integration empowers marketing and sales teams to get more contracts.

Cost Optimization: Cost Efficiency plays a huge role in the performance of a real estate business. Optimized cost management helps infrastructure businesses to save more without affecting efficiency and service quality.

Inventory Management: Real-time prediction-based updates help infrastructure businesses optimize the buying processes ensuring no activity comes to a halt because of a shortage of required goods. ERP software provides automatically updated insights into procurement requirements.

Process Optimization: Process Optimization offers a great value to all the functions of a business. Quality management with performance monitoring helps businesses to save manpower, effort, time, and costs. Infrastructure ERP system implementation helps real estate agencies to optimize day-to-day activities based on real-time status updates.

Client Management: Custom Infrastructure ERP software helps real estate businesses manage client records, mobilization costs, contracts, RA bills, revenue, receivables, service tax etc. The complete information of clients, properties, and sales prospects helps businesses to sell more by acting in line with client's behavior and expectations.

Onsite Management: Tailored-to-need Infrastructure ERP solutions are designed in line with the particular workflow of a business. These help infrastructure businesses manage onsite activities with optimized use of field staff while supporting them to perform the best for quality productivity.
Benefits of Infrastructure ERP Software: Why You Should Hire Infrastructure ERP Agency?
Data-driven financial management helps you to manage cash flow, raise bills on time, reduce billing errors, identify areas to improve financial performance, pay bills on time, avoid penalties, etc.

AI-powered infrastructure ERP software helps you improve project management by providing real-time progress reports for each project on a centralized dashboard. It helps you track project costs, scope, and timelines besides helping you to identify probable risk in time.

ML & AI-powered Infrastructure ERP solution helps you strengthen customer relationships and brand repute by continuously improving the service-support model.

Infrastructure ERP integration increases overall productivity by identifying the areas for improvement like task allocation, mobility of field staff, performance tracking, information sharing, task-specific reports generation, etc.

Business automation integrates all the departments for seamless information sharing resulting in increased process efficiency and profitability.

Cloud-based infrastructure ERP application enhances workflow automation, scalability, and security.
Twelve Key Features of Infrastructure ERP Software
When you hire the best company for Infrastructure ERP development, the Infrastructure ERP software comes as a comprehensive solution providing decision-makers, managers, and other stakeholders with many tools to effectively manage the complete lifecycle of a project. The leading Infrastructure ERP software companies ensure to embedding at least the following features-
Cost estimation

CRM

Bid management

Project scheduling

Contract and Purchase Order (PO) management

Inventory management

Vendor management

Facility & equipment management

Custom reporting

Productivity/performance monitoring

Document, information, and workflow management

HR & payroll processing
Is It Good To Invest In ERP Development and Integration?
According to the Oracle Netsuite report, 53% of IT executives accept that ERP is their investment priority. A report by Cybrosys states that ERP solutions reduced operational expenses by up to 11%. Learn 2G reports that ERP software reduces overall administrative costs by up to 22%. Almost 35% of ERP users say that the top reason for ERP implementation is increased efficiency. Almost 95% of businesses experienced major improvements after implementing ERP software. AI-powered Infrastructure ERP solutions are more efficient in data analytics. Infrastructure ERP software integration is a good choice for medium to large organizations as well as equally good for small businesses dealing with infrastructure services. The investment you make in ERP development and integration comes back into your pocket within a couple of years by helping you in many ways. ML and AI-powered Infrastructure ERP integration is a justified choice if-
You want to enable remote workforce management

You want to improve collaboration

You want to improve accounting standards

You want to simplify following regulatory compliances

You want to have unified and real-time picture of business activities

You want to improve reaction times

You want to reduce operational risk

You want to advance scalability, monitoring, automation, and data analytics

You want to reduce operational expenses

You want to increase in-hand projects, improve profitability, & strengthen customer relationship
How To Initiate For Infrastructure ERP Solution Implementation
Analyze and define your specific requirements aligned to required functionalities, features, integrity, existing users, usability, objectives, etc.

Select a bespoke Infrastructure ERP agency out of shortlisted software development companies based on reviews, ratings, expertise in ERP development, support model, portfolio, reputation, achievements, etc.

Create a Proof of Concept (PoC) for testing alike would-be software solution to see what the software is like and whether it meets your defined requirements or not.

Explore the implementation possibilities and requirements for legacy system upgrade; if you need to upgrade the existing IT Infrastructure, check for additional costs to judge the affordability.

Once the Infrastructure ERP developer company is finalized, prepare for ERP software implementation as per requirements; it includes evaluation of current business processes, project management process, customer relationship management, completion period, data security, finance availability, etc.

Create a timeline to complete the integration, implementation, and deployment of developed Infrastructure ERP software.

Evaluate the training requirements and fix the training models for different groups.
Takeaway
Infrastructure ERP software is a powerful tool for infrastructure companies as it empowers them to compete with enhanced excellence through the benefits of AI, ML, data analytics, smart reporting, process automation, customer relationship management, etc. A number of bespoke software development agencies in the UK offer Infrastructure ERP integration services; however, Web Alliance in Northampton, United Kingdom may be a good choice to outsource rightly priced affordable custom Infrastructure ERP solutions because it has-
The best in-house skills for software development

Specialization in bespoke business solutions development

Turnkey project development model

Customer-centric agile approach

Dependable support system

Competitive pricing structure
Portfolio enriched with competed ERP software projects
FAQs
Q. What is Infrastructure ERP for real estate businesses?
Q. What are the benefits of using Infrastructure ERP for real estate businesses?
Q. What are the key features of Infrastructure ERP for real estate businesses?
Q. How can Infrastructure ERP help in project management?
Q. How can Infrastructure ERP help in sales and marketing management?
Related Blogs
Satisfied customers, quick quality completion of tasks, …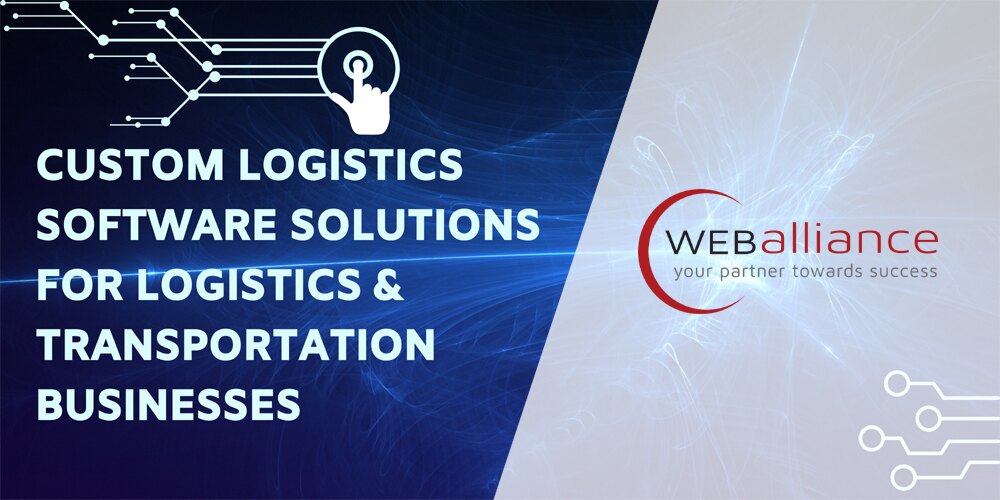 Booming eCommerce, rising fuel prices, complex trade rules, …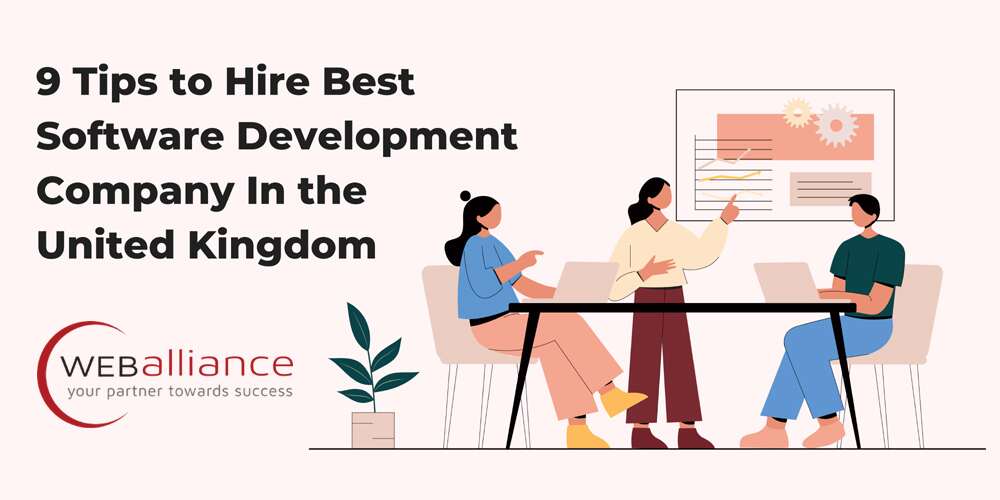 Integration of bespoke software solutions has become …