Bespoke Databases
What is a bespoke database?
A Bespoke Database is one that we put together for your specific business needs. It's not a database that you have to adapt to. It's one that fits how you and your company want to work. The bespoke database we write for you will solve numerous issues for your business and can be written to integrate with your existing software applications.
What's the benefit of a bespoke database over an off-the-shelf system?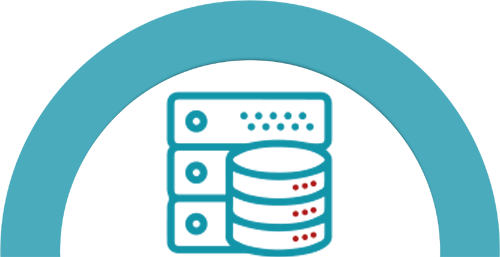 You can choose from any number of off-the-shelf database and CRM products. They offer a whole raft of solutions that may satisfy many of your business needs. However, there's almost always an element of compromise required on your part – adjustments you have to make to the way you and your people work. The scale of these adjustments can slow you right down and leave your people, who are used to working in a familiar, efficient way, frustrated. Either that or the off-the-shelf product is simply over complicated for what you need.
Who's in control?
You'll also find, with an off-the-shelf system, that you have no say in future developments. The provider may choose to point the product in a completely different direction from where you need it to be. You might have to adapt to these developments, and you might miss out on features that you'd benefit from.
With bespoke database development, you're in control of changes and advancements in the software. True – there will be a cost to this, but it can soon be offset by avoiding having to invest in a completely new off-the-shelf system every time your business needs change.
A competitive advantage
A bespoke database can give you the edge over your competition. They'll be using their own software – probably off-the-shelf and lacking your custom features. This can leave them slow and cumbersome when they need to be responding quickly to your innovations. In other words, you'll be leading from the front.
Does my organisation need a new database system?
To answer this question, you need to first ask these -
Do we need a database that can be completely tailored to our organisation's workflow?
Has our current database reached capacity? Does it need to be replaced or extended?
Do we receive support for our current database?
Has our database become too costly to maintain?
Do we have fresh challenges or processes with which our existing database can't cope?
Do we need to simplify and streamline our data collection?
Do our managers need improved business insights, such as KPI monitoring and visual aids such as charts and graphs?
Providing your bespoke database – how we work
1. We consult
Here at Web Alliance, we design bespoke databases for businesses and organisations of all shapes and sizes. Read here about some of those projects. We don't work on vague estimates. We'll give you a firm quote that we'll stick to. You'll know exactly where you stand. We work with your people to analyse exactly the system you need. We present you with the brief in an easy-to-understand format. We'll make sure that everyone in your organisation understands what they're going to get and how it will work.
2. Developing your bespoke database
Throughout the development process, we communicate, keeping you up-to-date on our progress and letting you know about any hitches along the way. We'll provide you with a schedule of key dates. These might be dates at which we expect to reach certain stages in the development, or they might be deadlines when we need information from you. Depending on the project, we might need you to sign off different aspects of the project throughout the development.
3. Migrating your data
Towards the end of the project, we'll need to migrate data from your existing database application.

4. Hosting your bespoke database
We have our own web hosting platform. This means that, if you need it, we can host your site on our own servers. You'll enjoy the peace of mind that comes with knowing that your database application is in safe and secure hands. Alternatively, if you have a platform available within your business or on an alternative hosting platform, we'll use that instead.
5. Security and efficiency with your bespoke database

Every forward-looking business needs software that provides valuable insights and is intuitive and secure. Your businesses may produce huge rafts of data. It's vital that you store your data securely and use it effectively. That's what a Web Alliance bespoke database will give you. Multiple people will be able to use it simultaneously and you'll be able to introduce workflows that accelerate your processes, saving you time, resources and money.
Enjoy the benefits of a fully-functioning bespoke database system.
Call us today on 0800 677 1786 - we'd love to hear from you.
Callback Request