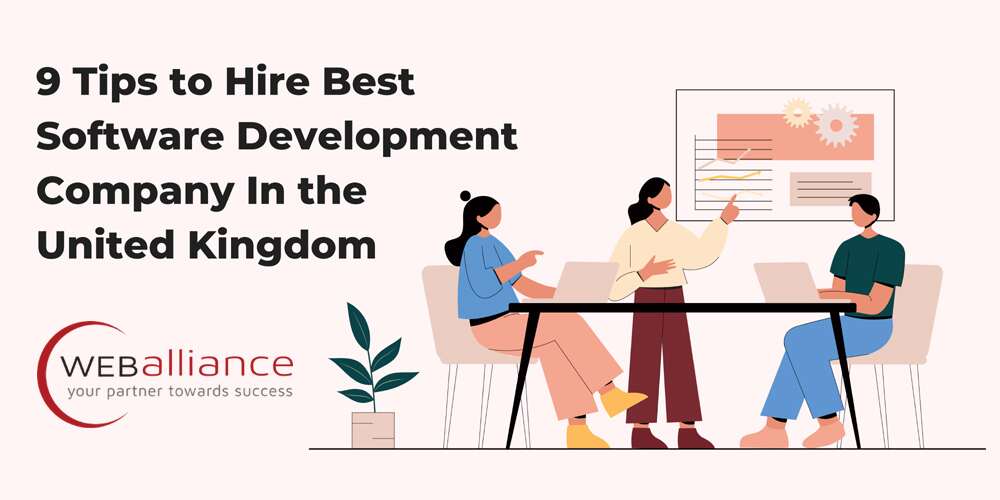 Integration of bespoke software solutions has become imperative for any kind and type of business because of the increasing importance of data-driven process automation. To grow with consistency in a competitive marketplace, UK businesses need different types of custom software developed in line with particular objectives. According to a report published on June 2, 2021, 69% of businesses in the UK were using software solutions to improve their customer experience, productivity, and efficiency. If you feel lagging in competencies despite marathon efforts, absence of bespoke software in your business process system is the prime reason. The time tested solution is- 'hire the best software development company in the UK'.
Whether you need to integrate an custom ERP system, CRM solution, CMS software, or eCommerce app integration, a reputed agency for custom software development in the UK may help you in a miracle way. You will find an abundance of companies claiming specialization in bespoke software development in the UK but the ROI highly depends upon the right selection of company for custom software development. The following experience-based nine tips may help you hire the best company to outsource software development in the UK-
List your requirements and analyze their importance to fix priority. You should be able to communicate your requirements clearly to the shortlisted software development companies. The transparency in your requirements statement helps software agencies prepare the best-fit quote. User requirements state how the existing system or process should perform after the software deployment. Clear and detailed user requirements reduce development costs, increase efficiency, improve quality, and enhance flexibility. The key benefits you can expect from custom software integration are-
Personalization

Cost-effectiveness

High reliability and security

Hassle-free support

Desired flexibility and scalability

Seamless integration into an existing system

Increased productivity

Ownership
Determine the size and scope of the software project; it helps you determine which software company is good for the particular type of project. Some software companies in UK deal with huge projects while some software companies cater to the needs for small software development also. Project size estimation is an important aspect of custom software development; it gives insights into the required management controls, types of tools, effort, costs, and technologies.

Fix the budget for the entire project. While choosing a business software company, determine whether the provided services are worth investing in or not. You have to pay not only for software development but for integration, deployment, training, and maintenance also. You also need to assess your in-house capabilities to use the integrated software solution up to its full potential. If you need training, take the training cost and models into account. The key cost factors of bespoke software integration, you should focus on are-
Expertise level of engaged software developers

Complexity of the desired software solution

Integration with third-party programs

Licensing fees

Required tech stack including languages, frameworks, version control tools, CI tools, etc

Hiring model

Software development methodology
Ask your business community for referrals. Hiring a software development company by using your connections saves time and effort. Word of mouth instills confidence of hiring the best agency. Flexibility, relationships, financial stability, and sustainability are the often ignored but important aspects for hiring a software developing company.

Conduct thorough research online and contact a few short-listed companies. Every software agency has some specialization. For example, you may find one company having special achievements as an ERP software development company, other company may have an impressive portfolio for ERP software development in the UK or as a custom CRM development company.

Assess the shortlisted companies that seem having impressive achievements in a particular domain. The key assessment parameters are in-house skills, dedicated team size, experience in particular software solution development, specialization in particular technology, diversity in clientele, number of projects delivered, etc. The technical acumen of a software development company directly impacts the final product's performance. Custom Software development demands proficiency in different programming languages, development frameworks, and tools. The chosen software development agency should be well-versed in the latest trends. The top technologies for bespoke business software solution development you can rely on are- PHP, MySQL, Javascript, jQuery, React, HTML, CSS, Linux, Apache, etc.

Pay attention to online reviews and responses. Social media reviews about a company present a real picture of its perfection, service quality, and standard. The response rate to comments and reviews shows that how much the company values its customers' concerns. Here, you can join the community of customers and ask about their experience. Post-integration troubleshooting support matters a lot; it is an important aspect to be discussed.
Almost 49 percent of consumers trust the reviews they read online like the personal recommendations (BrightLocal, 2022).
Set a timeline for your software development lifecycle (SDLC) phases like planning, analysis, design, development, testing, integration, implementation, etc. The selected software development company should have in-house resources to deliver accordingly. The Agile Software Development Life Cycle (SDLC) is a mix of iterative and incremental development models; it is focused on customer satisfaction n process adaptability.

Ask for a demo. Ask for features and functionalities that can be embedded in bespoke software development. Whatsoever tech-stack you choose for software development, you come across a long list of features and functionalities that can be integrated into your business solution but you need to optimize the desired features and functionalities of cost factor and suitability to your existing system.
How To Judge The Success Of Custom Software Integration
Ok, you have empowered your professionals with a custom software integration enriched with all the require features and functionalities. Now, it is time to scale your decision to invest in hiring a bespoke software development agency. Here are three tips to help you calculate ROI for a software integration project-
Assess the ROI for a particular period

Calculate pessimistic and optimistic ROI scores

Compare anticipated and actual ROI
Certain aspects impact the ROI for software solution integration. To get the best return from hiring a software development agency, you should consider the following aspects-
Employee experience with the integrated custom software

Data security assurance and policy

Use of business process automation

Business process improvement

Customer service quality improvement
Calculating the ROI of custom software integration clearly provides insights into how much beneficial the specific software is. It is essential that the software integration benefits outweigh the costs over a period.
Pro-Tip
Some portals list the software development companies highlighting their competencies and specialization. Based on my experience, I would say that such a list just provides the basic information about the listed software agencies but it doesn't recommend these for hiring. The best approach is to select a suitable Bespoke software development company based on your searches and analysis.
Related Blogs