Mobile App Software Development
Why do I need a mobile app?
So many reasons - and here are just a few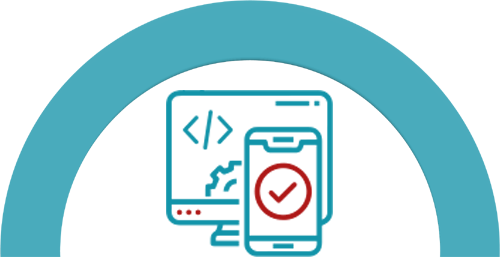 an internal app to enable you to monitor your employees, assign tasks and allow for smoother data management.
to attract the attention of new customers and ensure existing ones stick around
to enable mobile payments
to integrate with the 'Internet of Things'
for your online store, to give customers more options, such as enabling customers to try on clothes using augmented reality
you run a service business and want to allow users to access their information through a portal using their phone
visitors tend to spend 3-4 times longer online when using an app than if they're using a website on their mobile
Don't forget – more than ever before, people are using smartphones and mobile devices over desktops or laptops. It's increasingly a question, not of 'can I afford an app for my business?', but 'can I afford not to invest in one?'.
Looks aren't everything …
… but they certainly help. A stylish app will certainly impress your users, but its smooth, efficient usability will give them long-term satisfaction.

We develop an app for your organisation that's both attractive and highly functional.

You'll enjoy the benefits of an app that matches relevant content with great design and clear navigation – all purpose-built to develop and maintain a strong connection with your audience.
The best possible user experience
You need an app that works effectively on every platform. This is where our experienced development team comes in. We make sure you enjoy the benefits of intelligent, responsive and secure mobile applications for all major mobile platforms - increasing your organisation's level of communication and accessibility.
We ensure the best user experience for your target audience - from internal corporate teams to consumers. We use journey mapping, wire-framing and prototyping to deliver rich and complex functionality to your users. In short, we put usability at the heart of your app.
An app that grows with you
Our highly skilled application development teams specialise in building integrated enterprise web and mobile frameworks for all sizes of consumer-based applications. Our approach to planning and architecture ensures that your technology platform will scale and adapt. As you grow, so will your app.
Mobile app delivery – what happens next?
We don't just design your app as part of a tick-box exercise and then move on to our next project. We take pride in our work and are committed to making sure you get the best out of it – for the long term. That's why, once we've delivered your mobile app,
we launch it on the Apple App Store and Google Play
we transfer the Intellectual Property Rights to you.
we give you ongoing support
we offer optional hosting
Bespoke mobile apps – your questions answered
Who owns my app software?
You do.
Once our work is done, we transfer the intellectual property rights to you, with no ongoing licence fees. We never use any proprietary 3rd party plugin or technology. This means that any competent Microsoft-trained developer can maintain your software.
Do you outsource any of the development work?
No – that's not our style. Our own highly talented team carry out all your development work. This gives us complete control over the development process and quality.
Are we committed to staying with you?
No. We design our apps so that they can be picked up by any competent Microsoft developer. We base our client relationships on trust and customer satisfaction – an arrangement with suits us and our clients best.
What about communication during my project?
We'll be 100% transparent – keeping you up-to-date right the way through. We're proactive. If we anticipate any issues on the horizon, we'll be in touch to resolve them - immediately.
Once your project is underway, you'll have access to our project management software which will allow you to keep track of progress. We use it to keep you abreast of progress.
What about training?
As we build the software for your app, we make it as easy and as intuitive to use as possible. This minimises the level of training your users need. Having said that, we'll make sure you and your users have all training and guidance you need to get the most of your app.
Take the first step towards enjoying the benefits of a bespoke,
fully-functional mobile app for your business.
Call us today on 0800 677 1786 - we'd love to help.
Callback Request