About STARS
Web Alliance developed S T A R S for Extra Learning UK Limited in 2009. Extra Learning is using this software heavily over the past 4 years and manage to run multiple centres successfully in multiple countries and till date we are doing the additions to their system and the system can manage all their required data in the desired manner. This customised Student Management System has the following features:
Student Management
Enquiry Chaseup System where by staff can see the enquries and book appointments, chase enquiries or schedule an interviews can be achieved.
Student Details management which includes student photo, course, Fee and various other useful informaiton.
Attendance management system for printing attendance sheet in excel for the batch depending upon batch type.
Refer a friend (RAF) System provides the provision of giving discount to the both parties involved in the reference.
Students Certificate management system to tracks who got certificate and who need to be issues etc.
Courses Management: new course can be added and amended the existing once with fee structure change etc.
Fee / Installment Management system
Internal Task management system where by Admin can assign task to the staff and staff can respond to it and admin can deal with it and so on.
Batch Management
Create / manage batches with multiple types options.
Batch wise attendance sheet can be produced.
Batch wise Fee management can be done.
Branches Management
Currently STARS have Branches in 3 countries and our software manages multiple centres in all 3 countries as follows:
United Kingdom Branches
Birmingham (Smethwick)
Birmingham (Soho Road)
Birmingham (Melton Road)
Birmingham (Wolver Hampton)
Leicester
India Branch
Punjab
Nepal Branch
Kathmandu
Reports
All the following reports are available in flexible time frames and for specific batch and and branch wise:
1. Revenue Report for Selected Date Range
2. Total Revenue
3. Average Revenue Per Student
4. Gender wise students Report
5. Packages Taken(ILR/Nationality)
6. Student Enrolled in specified period
7. Student Mobiles Numbers for SMS purposes
8. Student Pass list
9. Attendance Register (in PDF)
10. Certificate Collection sheet (PDF)
11. RAF Payment Report
12. Petty Cash Report
13. Postal Service Report
14. Premium Service Report
15. Staff Attendance Report
16. Staff Breaks Report
17. Other Cash Report
18. Cash Out Report
19. Secondary Disclaimer Report(PDF)
20. TAC sheet Report(PDF)
21. Document Checklist Report(PDF)
22. Monthly Report with customised details
23. Document Pack Report(Attendance, Certificate Collection Sheet, TAC Sheet, Document Checklist)
24. Discount Approval
25. Student PDF(For whole Batch)
26. Premium Approval report
27. Admin Specific Reports(Logs etc)
28. Admin Tasks Report
29. Appointments Reports
30. Admin Log tracking(who logged when and did what in admin system)
34. Batch RAF Letter (In PDF)
35. Batch UKBA Letter (In PDF)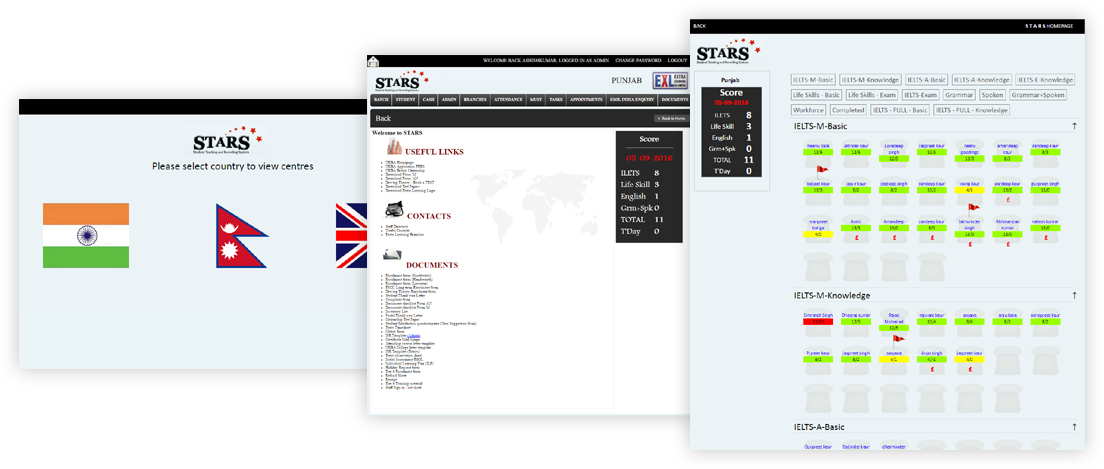 The Technology

HTML5

CSS3

JAVASCRIPT

CMS

DATABASE
XHTML
Callback Request